September 16th, 2016
Nick Kelso's Rats Rant – Insight into the Resource Industry
Did you know on this day in 1908 General Motors Corporation was founded in the U S of A.
While we are on the land of the free and the brave one of America's largest Golf specialty stores named Golfsmith filed for Bankruptcy recently based on flagging sales. Apparently the millennials have not taken to golf as they see it as an old fogey sport that takes too long.
This bloke looks like he might be pretty handy with the one wood in hand, I play a bit of Golf myself but am more of a weekend hacker than a serious player if anyone really cares !!!
Today the market closed up 60 points after a strong lead from Wall Street overnight which was pleasing to see.
In my opinion this week in the US and here I guess has seen more ups and down than what you would experience if you were to go on a bender with Charlie Sheen. I have always wanted to do that just like the running of the Bulls. Maybe one day Charlie !!!
Some would call it a lifestyle other's would call it crazy but if I ever get the chance to go on a bender with Charlie then I will let you know what my opinion is !!!
---
What's Hot
AHQ – Allegiance Coal has today closed up 160% to finish at 2.6c on $500k stock traded. The reason they are up today is because they have acquired a coal project in British Columbia, in the Telkwa Coalfields. There seems to be quite a lot of interest coming back into the coal sector as many of you would be aware, how long will it continue and will we ever see the highs that we experienced in the 2009-2010 years is anyone's guess.
Some details on today's fairly long announcement are listed below:
ALLEGIANCE COAL LIMITED TO ACQUIRE TELKWA COAL LIMITED
The Directors are pleased to announce that Allegiance Coal Limited (Allegiance) has entered into a conditional binding agreement (Sale Agreement) to acquire the entire issued share capital of Telkwa Coal Limited (TCL). TCL is a private company incorporated in British Columbia, Canada, whose sole asset is a Farm-in Agreement over an advanced coking coal exploration project (Farm-in Agreement) located in the mid-west of British Columbia, in the Telkwa Coalfield (Project).
The consideration for the Acquisition is to be satisfied solely by the issue of ordinary shares in Allegiance. The Acquisition is subject to a number of conditions, including the consolidation of Allegiance's share capital on the basis that each five shares held by an Allegiance shareholder will be consolidated into one share (Consolidation), and the successful completion of at least a A$1 million capital raising (Capital Raising).
Further information regarding TCL, the Farm-in Agreement, the Project, the Consolidation and the Capital Raising, are set out in this announcement. Allegiance intends to call a meeting of its shareholders tentatively scheduled for early November 2016 (EGM), to seek their approval of various resolutions to give effect to the Acquisition.
Project Background
Figure 1 on the following page illustrates the Project location. The Project sits in the Telkwa Coalfield, located within the southern reaches of the Bowser Basin, which also hosts Atrum Coal NL's (ASX:ATU) Groundhog project ~300km to the north.
The Project is located immediately adjacent to Canadian National Rail's (CNR) mainline that runs direct to the deepwater Port of Prince Rupert. It is a relatively short 390km rail haul from the Project's planned siding direct to Ridley Island Coal Terminal (RICT), located at Prince Rupert. RICT states that it currently has 18Mtpa installed and operating capacity that can be expanded to 25Mtpa within 24 months. The Directors believe current annual coal exports from RICT are around 3.5Mtpa which means there is more than sufficient port capacity for the foreseeable future.
Historical reports indicate coal mining commenced in the Telkwa area in the 1920s and continued up until the early 1970s supporting domestic industrial demand. In addition, the Project area has been explored extensively from the 1950s to the end of the 1990s. Exploration included 828 drill holes, of which 321 were cored for coal sampling and analysis, along with two major bulk samples and extensive trenching.
The Project was the subject of a feasibility study completed in 1996 (1996 Feasibility Study) and an environmental impact assessment in 1997, designed to support a mining permit application for a 1.5Mtpa clean PCI/thermal open pit coal mine. At the time, PCI and thermal coal prices did not support the capital investment to build a mine and since then, the Project has stood dormant.
Good luck to all AHQ shareholders going forward who have had a few pretty ordinary years like many others in the sector !!!
FBR – Fastbrick Robotics Limited today closed up 28% to finish at 9.6c on $12m stock traded. These guys have been mentioned many times previously obviously because the share price has been moving and hopefully one or two of you have made some money out of it.
The reason they were up today is because they have announced that a house is under construction using the Fastbrick Technology. Well done to anyone that has been involved in this trade and the management of FBR and well done to my mate Cookie who got in early and the boys and girls at Cygnet Capital who are the Corporate Advisor to the issue.
Some details on today's news are listed below:
Fastbrick Robotics Limited (ASX.FBR) ("FBR" or "Fastbrick Robotics") is pleased to announce that a house under construction by Archistruct Builders & Designers in collaboration with FBR has reached lockup stage. The house has been built using a proprietary system of precision bricks and adhesive in line with FBR's preferred materials for the Hadrian X. This innovative house forms part of FBR's pilot market strategy to use Perth as its test-bed market and follows on from FBR's recent Framework Agreement with Archistruct Builders & Designers announced to the ASX on 6 September 2016.
The construction has been carried out using manual bricklaying methods, and has received engineering and Council approval. The bricks used in construction of the house feature interlocking perpendicular joints, which means the adhesive only needs to be applied on the top and bottom of the brick. This system also increases the thermal efficiency of the house and the strength of the structure.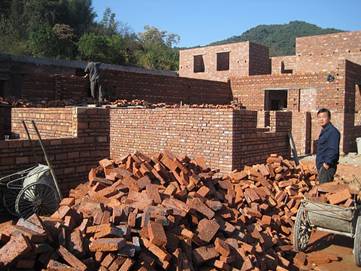 Fastbrick Robotics CEO Mike Pivac said: "We are pleased to have demonstrated that the methods and materials we will be using for the Hadrian X are compliant with regulatory requirements. The construction of this house in Perth is another important step on the path towards commercialisation of the Hadrian X, ensuring we can hit the ground running when we initiate our commercial pilot programme with Archistruct Builders & Designers in 2017."
This Chinese guy looks a little lost with half a built house and lots of bricks sitting around, could be time to call in the FBR crew !!!!  (don't think they operate in Beijing just yet though, sorry Champ)
DHR – Dark Horse Resources today closed up 11% to finish at 1c on $600k stock traded. The reason they are up is because they have reminded the market on World Coal Price Movements and given an update on its Dark Horse Coal Project in Argentina.
I have met the executive director of this company as well as one of the non execs and both of them were very impressive as always in my opinion. I have also known the Investor Relations chick or lady I should say for many years and she seems very competent and understands the market and brokers very well.
They have recently raised $330k @ 0.008c which was announced on the 14/9/2016 and I must admit I was offered stock in this but as I don't have as many clients as I have readers I can't be in everything.
Well done to Nick, David and Prue and the rest of the DHR team for the turnaround in the stock and hope it continues !!!
Details on today's news are listed below:
Recent World Coal Price Movements and Dark Horse Coal Project Update
Coal Industry reports for the month of August (2016) show that world parity coking coal prices increased by 41% and even thermal coal prices increased by 18%.    These are highly encouraging developments which represent a good outlook for coal producers.    In this light the Board of Directors of Dark Horse Resources Limited (ASX: DHR, the Company) thought it timely to remind shareholders and interested investors about the progress of the coal projects in Argentina controlled by the Company.
The Company controls and is developing two separate coal projects in Argentina (refer Figure 1).
The Marayes Project, located in San Juan Province, is a good quality thermal coal being developed to supply coal to identified industries in the region (market surveys have already been completed).  The larger Pico Quemado Project is located in Rio Negro Province and is being explored and developed in conjunction with a proposed 1000MW, on site, state of the art power station.  However, Pico Quemado coal is also known to have coking properties, and was tested successfully as a blend with imported coking coal at Argentina's steel plant at Rosario in the 1960's.  Sampling and analyses of outcropping coal in November 2013 by Dark Horse's subsidiary Excarb Pty Ltd returned a swelling index of 5.0, which is very encouraging in regard to further favourable coking characteristics. The Company has recently conducted a review of the overall Marayes Project footprint, and has consolidated the project to its most prospective areas around the Rickard and Rodolfo mine shafts and associated inclines.
Planned exploration in the coming months at Pico Quemado will include core drilling which will allow analysis of fresh coal for all relevant coking properties so that an assessment of its overall suitability and type of coking qualities can be assessed. In addition to supplying coal to the power station, there may be opportunities to sell extra coal to supply the local Argentina steel industry (import replacement) and the potential exists for coal export possibilities (there is an existing railway within 50km which would give access to ports and major cities).  The impressive recent price increase for coking coal suggests that the demand for the product has increased, and the temporary over‐supply problems are levelling out.
This has nothing to do with Dark Horse Resources but is my favourite Black Horse of all time, the great Black Caviar….. won some Arthur Ash (cash) on this baby let me give you the tip !!!  (so did Rexxy)
KRL – Kangaroo Resources today closed up another 30% to finish at 1.3c on $428k stock traded. These guys were going to get a start in yesterday's report but I ran out of time, so I was quite amazed to see them up again today. On Wednesday these guys opened at 0.004c and today they are 1.3c, which is a pretty amazing run for three days trading, wish I bought them on Wednesday rather than fishing on Simmo's new boat !!!
They did receive a speeding ticket yesterday and have basically said we know nothing…..
Good luck to all that are on the Kangaroo trade and hope the run continues for you, can't work out how something can up so much as it has with no information but this is a funny market we are trading in at the moment and to me the market seems to be more concerned or interested I should say in what is moving rather than what P/E earnings they are on.
Some of the big caps have got to be looking cheap but they still seem pretty friendless at the moment to me !!!
AKK – Austin Exploration today closed up 16% to finish at 0.007 on $200k stock traded. There is no news in the market today but I do note that a pretty reputable research house has released some research on them today that may have got a few punters excited.
The research report reads very well and happy to share it with anyone that is interested. I have known the management of this company for a long time and also have many clients that hold stock in the company, the main point from today's note was:
Firstly, the company is just days away from the start of a high impact drilling campaign at its Columbus #1 well at its Pathfinder Project, which covers approximately 15,773 acres in one of America's most prolific oil and gas basins, in a region known as the DJ Basin.
Interestingly, the size of AKK's land holding is big enough to build 400 wells at a scale that could be worth hundreds of millions of dollars in the future. They have recently acquired more ground in the area so I would imagine they are pretty confident of getting a result from this upcoming drilling campaign.
This is a pretty ordinary picture of the AKK executive chairman Guy Goudy who doesn't mind getting down and dirty in the well to help save costs, fingers crossed he and the AKK team can come up with the goods !!!
---
What's Not
AGX – Agenix Limited today closed down 16.67% to finish at 5c on $178k stock traded. They are actually not really down at all because this is the company that I have been involved in recently helping them to raise money. They have just re listed today after raising $3m @ 5c a share and they were a backdoor listing with obviously a few more flippers in it that I anticipated.
I do wonder why investors or I guess brokers take stock in things at 5c a share and are happy to pay brokerage and sell them at 5c a share also, why do they invest in it in the first place one would have to ask ????
Anyway I bought more stock for two clients today and dare say will be buying more on Monday (full disclosure as always). They did make an announcement to the market today to say that they have formed a partnership with a company called Icon Global Link that have got them into the IGA stores who are  owned by Met Cash (MTS) who are a  pretty decent sized business, as well as Friendly Grocer, Lucky 7 and other high profile brands including Australian United Retailers Limited (AURL) who are an independent retail supermarket group trading under the Food works brand.
Details of today's news are listed below and as mentioned last night it isn't too late or too expensive to become part of the Rat pack (AGX shareholder) and you have to wonder if the Coles and Woolies of this world will get on board after the Metcash transaction. (Hope so)
CCP forms strategic partnership with Icon Global Link
MELBOURNE, Australia, 16 September 2016 – Agenix Limited (ASX: AGX) today announced its wholly owned subsidiary CCP Holdings Pty Ltd – provider of an affordable high quality Internet of Things (IoT) critical control point monitoring solution – has entered a strategic partnership with Icon Global Link (www.iglink.com.au).
Icon Global Link (IGL) provides a cloud-based solution for integrated risk planning, document management and distribution, compliance implementation, monitoring and data capture in supply chains. As part of the relationship, CCP has worked with IGL to ensure real-time critical control point data integrates seamlessly into IGL's platform.
"In line with targeting the food industry, this transaction provides a significant channel to market for CCP" said CCP's CEO, Michael White. IGL work with leading Australia retailers to deliver compliance management and training systems. Their customers include Metcash Limited (ASX:MTS) – Australia's leading wholesale distribution and marketing company specialising in grocery, fresh food, liquor and hardware – which incorporates IGA, Supa IGA, IGA X-press, Friendly Grocer, Lucky 7 and other high-profile brands including Australian United Retailers Limited (AURL) – an independent retail supermarket group trading under the FoodWorks brand.
"Under the partnership, IGL will resell CCP's solution to its customer base" Mr White said.
Join the Rat Pack and don't be a flipper, as always in my opinion. (Hate Flippers)
BLT – Bentic Biopharma Limited today closed down 19% to finish at 8.5c on $325k stock traded. The reason the BLT's are down is because they have announced results from the phase 1&2 clinical studies of the TT-034 drug. Some details on those results are listed below:
Benitec announces results from Phase I/IIa clinical study of TT-034
Primary study endpoint of safety met
Transduction of hepatic tissue seen but no reduction in viral load
Valuable learning's from this study incorporated into other programs
Sydney, Australia, 16 September 2016: Benitec Biopharma Limited (ASX:BLT; NASDAQ: BNTC; NASDAQ: BNTCW) announces that its phase I/IIa clinical study for TT-034 has met its 24–week primary endpoint, based on safety within liver and other organs. This outcome demonstrates that TT-034 was well tolerated and had a favourable safety profile in subjects chronically infected with the hepatitis C virus (HCV). While transduction of hepatic tissues was seen, there was no significant decrease in viral load in treated patients, which was a secondary endpoint of the study.
Designed to treat HCV, TT-034 is an RNAi therapeutic comprised of a recombinant DNA that is delivered intravenously and uses an Adeno-Associated Virus capsid (AAV8) for transduction of hepatocytes. Once inside the cell, TT-034 uses the cell's transcriptional machinery to drive long-term expression of three independent short hairpin RNAs (shRNA) to simultaneously target three well-conserved regions of the HCV RNA genome.
This phase I/IIa clinical study for TT-034 enrolled nine patients who received a single intravenous infusion of TT-034 at escalating doses of 4 x 1010, 1.25 × 1011, 4 × 1011 and 1.25 × 1012 vg/kg. Patients were monitored for safety and efficacy assessments over 24 weeks following the administration of TT-034. A liver biopsy, collected 21 days post dosing, was used to assess hepatic TT-034 DNA levels and shRNA expression.
Georgina Kilfoil, Chief Clinical and Development Operations Officer for Benitec, said: "This was the first time that non-withdrawable RNAi was introduced directly into humans, with the goal of having a new therapeutic modality irreversibly transduce nearly all, if not all, of the patient's hepatocytes. Achieving this goal is quite an accomplishment in itself, but to have a clean safety profile is a significant achievement given that these patients have a chronic liver disease and compromised liver function. In addition, the trial has provided invaluable data on the development of our ddRNAi therapeutics as well as helped define the regulatory pathway that successor drugs will need to adhere to for entry into the clinic."
In total, eight males and one female infected with genotype 1 HCV were enrolled into the study with their diagnosis of chronic disease ranging from two to twenty-one years. Those enrolled included patients that were treatment naïve, as well as those that were treatment failures on standard of care hepatitis C medications. The age of patients ranged from 27 to 64 years.
If you are keen to know more about the BLT's please see full ASX release
This is a bacon lettuce and tomato sandwich and has nothing to do with the stock BLT but this is what I used to call them when I did trade it !!!  (could do with one right now)
MUA  – Mitula Group Limited today closed down 5% to finish at 109.5c on $34m stock traded. There was a block trade done in these guys prior to the market opening today that may have caused the weakness in the share price. Some details on that block trade are listed below:
Baillieu Holst were  appointed to conduct a block trade this morning for approximately 30m shares in Mitula Group Limited (MUA.ASX)
Key terms
 Issuer: Mitula Group Limited (MUA.ASX)
Offeror: Sellers include a combination of insiders and early-stage investors. Excludes Chairman Simon Baker who has elected not to sell any shares
Purpose: To enhance free float and provide further liquidity to the trading of Mitula Group shares. All participating sellers are committed to continuing as Directors and/ or executives of Mitula Group and provide an undertaking to not partake in any further selling until the release of CY 2016 financial results
Size: Approximately 30m shares
Price: $1.05 per share which represents:
8.7% discount to the last close $1.1500
7.2% discount to 5 day VWAP $1.1309
0.3% discount to 1 month VWAP $1.0533
I wasn't part of this trade by a few mate's of mine were and wish them and all the MUA shareholders and management all the best in the future, bit of liquidity never hurt anyone as long as there aren't too many flippers !!!
About Mitula Group
The Mitula Group was founded in 2009 and is a leading digital classifieds group operating classifieds vertical search and portals sites.
It operates 79 vertical search sites across property, employment and motoring in 49 different countries and 19 different languages. These sites operate under the Mitula, Nestoria and Nuroa brands.
It operates 10 property portals in nine South East Asian countries under the Dotproperty and Thailand-property brands.
The Mitula Group generates over 60 million visits per month to its network of classified vertical search and portal sites.
The Mitula Group monetises visits to these sites through a range of products and services including Google AdSense, cost-per-click ("CPC") sales, display advertising and listing sales.
The Mitula Group customers include portals (property, employment and motoring), general classified sites, real estate agents, developers and general display advertisers.
The Company listed on the Australian Securities Exchange on 1 July 2015 and trades under the ticker code MUA.
The above is all just my opinion and in no way should this be viewed as advice, if you would like to know more about anything above please consult your financial adviser, whether that be a stockbroker, financial planner, your wife or your husband !!!
Regards
Nick Kelso